Porfolio is divided up into:
These are all webdesign projects with one thing in common. They are powered by Joomla, an open source content management system that evolved from Mambo. To view a larger version of each image, please mouse over the list of articles, then click the thumbnail for further details.
Helsenett
October 27, 2006

Lani Muelrath
May 21, 2006

Van Ree Accountants
April 10, 2006

PaintCrete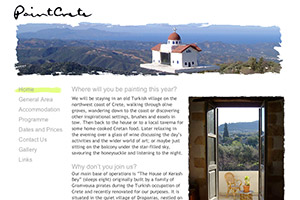 Website for (artistic) painting tours in Crete.
January 11, 2006

cbp uk
eCommerce site designed in Mambo
August 6, 2005

projects
Click on the thumbnails to view more information about each project